Artist's Statement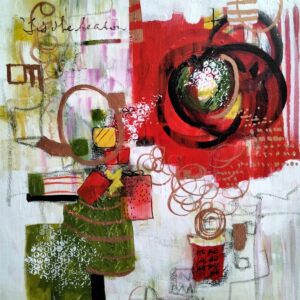 I celebrate the gift of time to paint, as well as the joy of creating and sharing my art with others!
My contemporary art is influenced by post-impressionist artists such as Matisse. I paint still life, floral and interior scenes to capture the intimacy, beauty, utility, and imperfections of personal spaces. The viewer is invited to imagine and delight in the story told by the improvised arrangement of objects in these non-photo-realistic scenes. 
My abstract art, as Fernand Leger said, "is about making something beautiful, moving or dramatic" that does not need to represent anything. If I begin with a subject, I remove all details to paint my memories of and feelings for the idea. I paint a story without words or pictures.
 My art is painterly, whimsical, and harmonious. I use multiple tools, including brushes and palette-knives, to apply heavy-body acrylic paint to canvas. To begin, I choose a theme, select associated colours and determine a compositional format. Applying paint in layers, I juxtapose transparency and opacity. The first layers include mark making, linework, and varied organic shapes to create depth, mood, and mystery; visual and surface texture are created through layering, scraping and impasto applications. Geometrical and defined shapes conclude the story.
I hope that my art will inspire the viewer to slowly read and enjoy the tale I have painted.
Contact Information
Gerry Hogaboam 
211 Mud Lake Road N.
Odessa, ON
K0H 2H0
(613) 386-5407
Send Email